CLASSROOM RESOURCES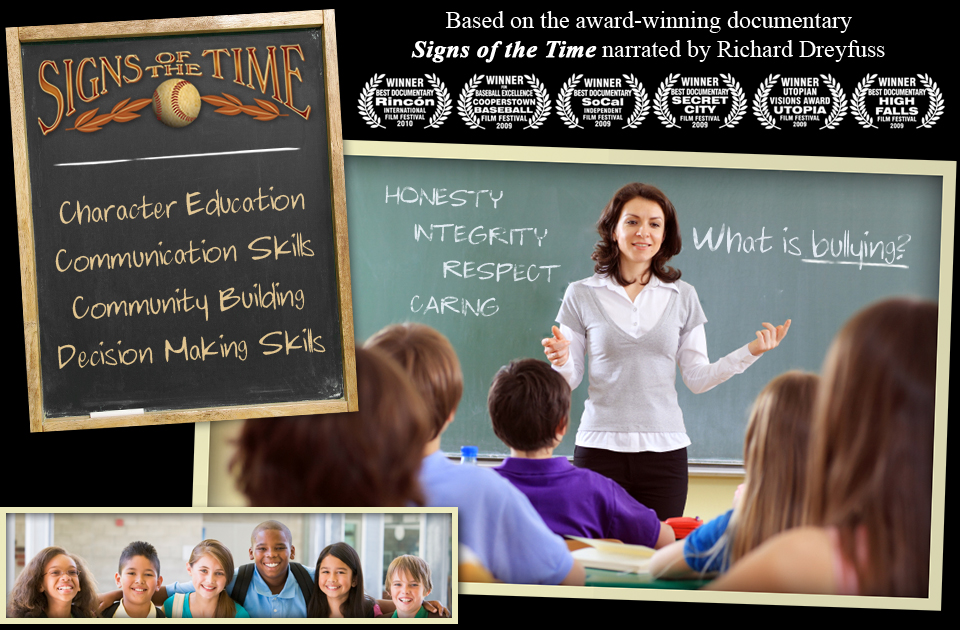 "The Signs of the Time Character Education Curriculum was piloted as a resource for Fourth Grade Health and Wellness lessons at Allen Creek Elementary School during the 2010-2011 school year. This program offers an interesting real-life study to reinforce values including acceptance, empathy, perseverance, and tolerance. Specifically, it enhanced our 4th grade reading unit Bridges and Barriers with an excellent example of successfully dealing with life's challenges. Students enjoyed the activities, learned more about one another, and made deeper connections with classmates. As a New York State School of Character, we place particular emphasis on character education and this curriculum is an excellent fit."
MICHAEL BIONDI,

Principal
Allen Creek Elementary School
Pittsford, NY
(Selected as a New York State School of Character by the Character Education Partnership - the leading national advocate for character education)
Developing Positive Character Traits Among Our Youth
The real-life story of Dummy Hoy that is portrayed in the movie Signs of the Time is an excellent example of the crucial character traits of honesty, integrity, respect and caring. The ultimate goal of educators, as well as parents, is for our children to be successful, contributing members of our society – simply put, to be a good citizen. Good citizenship not only is the glue that helps to hold our communities together, but provides a platform for us to live in harmony amongst the diversity the world offers. Inspired by Dummy Hoy's story, an entire educational curriculum supplement has been created to help educators teach character education with a subject matter that is appealing to youth of all ages, whether they are baseball fans or not. Developed by educators with over 45 years of experience, the Signs of the Time curriculum offers teachers the opportunity to help students explore and come to understand the life of Dummy Hoy, a deaf baseball player who overcame barriers of communication to succeed in the major-leagues. This unique program uses music, role playing and interactive games to inspire students to make thoughtful decisions and respect diversity. Since parents and teachers alike strive to teach these skills throughout a child's education, this supplement is offered in three different levels for K-12 schools. The lessons and activities contained in the program can be easily integrated into the current curriculum being taught.
Each package includes:
The

Signs of the Time

movie on DVD
Teacher and student movie guide worksheets
Student activities
Student worksheets
Support materials:

Gr. K-3 includes storybook, inflatable ball and a sing-a-long music CD
Gr. 4-6 includes Charades cards and inflatable ball for use in activities
Gr. 7-12 includes Charades cards and inflatable ball for use in activities
Free movie poster included!